For the last two years Exhibition Road,  which runs from South Kensington
up to Kensington Gore and Hyde Park, has been a chicane of workmen and
roadworks undertaking one of the boldest and most imaginative overhauls of
an open public space in London. It is the most visited place in London,
with millions of tourists visiting the  museums that are the great legacy
of Prince Albert.
It is now unveiled. Instead of a tarmac road populated by cars and
separated from a pedestrian pavement by barriers, there are now white
cobbled St Andrew's crosses stretching from building to building either
side with no railings in sight. Walkers and taxis share the same space -
but not entirely: the bottom section from the Cromwell Road to Prince
Consort Road that incorporates the Science Museum and Imperial College
keeps the traffic to the east side but only demarcating this with benches
and Boris-bike racks. The idea is that when barriers are removed, those on
foot or those driving both keep a more careful look out for each other.
Instead of the depressing sodium or orange glow of the municipal street
light there are 'flag poles' with integral spot lights that look
magnificent as they stretch up the hill towards the Park.
it is a project that has been done with style, imagination and materials
that will last - a great street for a great city. Hats off to Kensington
and Chelsea, Westminster, Transport for London and the Architects Dixon Jones.
What next? Any of the awful London roundabouts: think of the change for the
better when Trafalgar Square or the area in front of Buckingham Palace were
reclaimed for pedestrians. Sloane square is an obvious candidate.
Parliament Square? Think bold.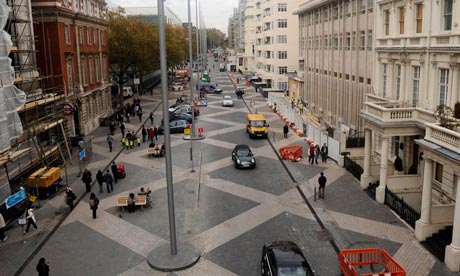 Cultural criss-cross ... the new-look Exhibition Road in London. Photograph: The Royal Borough of Kensington and Chelsea